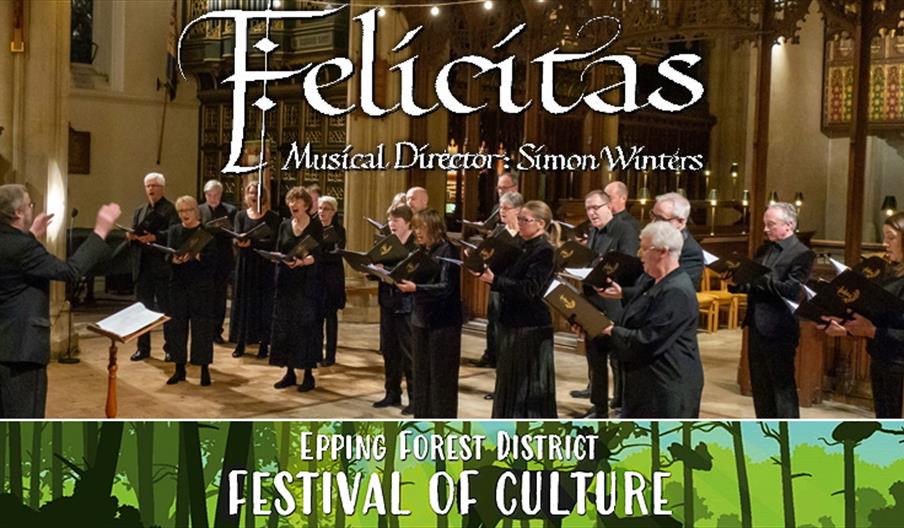 About
Felicitas Chamber Choir
Felicitas is a small amateur chamber choir, originally formed by two enthusiastic choral singers, Chrina Jarvis and Maggie Snook, to perform one concert with a few friends. With Simon Winters conducting it was a huge success and amazingly almost thirty years later, happily with Simon still at the helm, their mainly a capella artistry and is well known on the London and Essex borders with a history of nearly a hundred live concerts, 5 beautiful CD recordings, several tours around Europe and now streaming their virtual performances for all to hear.
Although their first love is performing sacred and secular 16th and 17th century music, with half a dozen voices to a part, they frequently perform repertoire from every musical genre, impressing audiences with music for double choir and their ability to take soloists from within the choir for larger accompanied works. The infectious joy of singing, inspired through commitment and great friendship, comes across to all who come to hear them.
Please visit www.felicitas.org.uk for more information.
The choir was hoping to perform live as part of the Epping Forest Festival of Culture. Sadly, that wasn't to be, so they would like to share with you three videos which have been created in the last year, two of which are "virtual" performances, the other being a video of some pieces recorded and filmed last December at some socially distanced rehearsals.
Click here to view If ye love me by Thomas Tallis
If ye love me by Thomas Tallis (c.1505-1585) is one of Tallis' best known short pieces. Tallis was organist at Waltham Abbey for a short while before the dissolution of the monasteries and this piece is simple in style and fulfils the Protestant criteria of the time that the words (in English) should be as clear as possible to hear.
To find out more information about Thomas Tallis, check out our page about him - click HERE.
Click here to view Ubi caritas by Ola Gjeilo (b.1978)
The plainsong melody associated with Ubi caritas (Where love is) has been used by many composers, perhaps the most famous being by Duruflé in 1960. This particular setting was composed in 2007 by the Norwegian composer, Ola Gjeilo, and draws on the plainsong melody for its inspiration.
Click here to view our Christmas Video
Although we are well past Christmas, much of the music in this video could be listened to at any time of year! The range of music includes works by Lassus, Pachelbel, Mendelssohn, Will Todd, John Gardner, John Rutter and Bob Chilcott.
Saturday 12th June is an important date for Felicitas this year, when they are planning to put on a quite spectacular concert in St. John's Church, Epping. A singing tour may well follow in October before they return to the Abbey Church in Waltham Abbey for a festive themed concert on Saturday 4th December.
Map & Directions