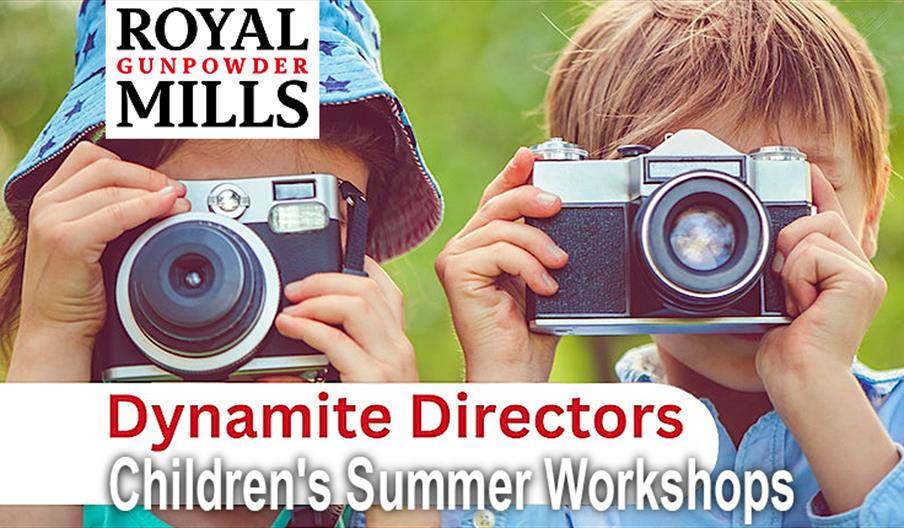 About
Children's Summer Workshop at the Royal Gunpowder Mills, Waltham Abbey, Essex
Dynamite Directors!
Tuesday 8th August Morning session or Afternoon session
Morning session 10.30am - 12.00pm - Book here
Afternoon session 1.00pm - 2.30pm - Book here
Beaulieu Drive, Waltham Abbey, Essex, EN9 1JY
Join us for an exciting and creative summer workshop where children, aged 6-12, can learn to frame their photographs and unlock a new passion for storytelling.
Please note: This is not a drop-off activity. Children must be accompanied by a parent during the workshop.
Cameras will not be provided as part of the workshop. Children will need to bring a digital camera or phone to participate fully in the planned activities.
Tickets for this workshop are not admission to the whole site. Our visitor attractions are not open on this day.
For details on our select open days please visit:
https://www.royalgunpowdermills.com/summeropening
Did you know that the Royal Gunpowder Mills site has been used as a filming location for a handful of Hollywood blockbusters? Now your child can have a go at being a director of photography and film!
During this workshop, children will have the opportunity to make their own viewfinder and practice framing their images to introduce the idea of composition. Then we'll pick up our cameras and find new ways of seeing with a photography skills trail around the site.
To finish the session, we'll experiment with doing some storytelling through our images. We'll take a ride on the gunpowder railway and children will be encouraged to tell the story of their train ride through a sequence of still or moving images.
Due to limited capacity on the railway, only one adult can be admitted per child.
Don't miss out on this fun-filled morning of creativity and learning! Register your child today for the Dynamite Directors! Children's Summer Workshop - Morning or afternoon Session.
Other workshops coming up (details here):
Wildlife Expedition
Tuesday 15th August
Come and explore our beautiful wildlife of deer, birds, and expansive forest. We'll make our own camouflage headbands before heading out on a nature scavenger hunt to see how many creatures we can spot. Then we'll get up close to the creatures living in our canals with some pond-dipping and learn about the ecosystems of the River Lee.
Explosive History
Tuesday 22nd August
Get your children learning about the history of the mills with a selection of fun craft activities. We'll be creating our own explosive naval battle scenes in paint and glitter. The children will use their imagination to draw a portrait of our pioneering head of the mills Philippa Walton. Lastly we'll get the children to make their own replica WW1 explosives in playdough.
Last Hurrah!
Tuesday 29th August
Get another chance to ride on our railways in our last family day of the summer. Explore our miniature railway, the Gunpowder railway, and marvel at our powder boats. Don't miss out on our crafting session to make your own powder boat.
Facilities
Establishment Features
Parking & Transport
On site parking
Parking (free)
Provider Preferences
Outdoor Attraction - The Royal Gunpowder Mills is a very large unspoilt site with areas designated of special scientific interest (SSIs). The dangerous nature of gunpowder manufacture, and the later chemical explosives, made it sensible to space buildings apart. So the industrial processes can be explored within a natural environment. Trees were allowed to flourish between the buildings as they provided an additional safety barrier should an explosion occur in a building, and canals link all parts of the site.
Map & Directions
Road Directions
The Royal Gunpowder Mills is located in Beaulieu Drive, off Highbridge Street (at traffic lights and opposite McDonalds), a ten minute walk from the centre of Waltham Abbey. The entrance is at top north end of Beaulieu Drive.
There is free parking
From J26 of M25, take A121 to Waltham Abbey; or from J25 of M25 go to Waltham Cross and then A121.
Public Transport Directions
By Bus
The site is just a 10 minute walk from Waltham Abbey Town Centre.
Nearest bus stops in Highbridge Street are served by the following local buses:
21, 212, 213, 240, 250, 251, 255, 505, 517.
By Rail
Nearest station is Waltham Cross, connecting London Liverpool Street or Tottenham Hale underground (Victoria Line) to/from Cheshunt/Broxbourne/Hertford East.
We are a 25 minute walk east from the station.
You may also take a bus or a cab (office at station).