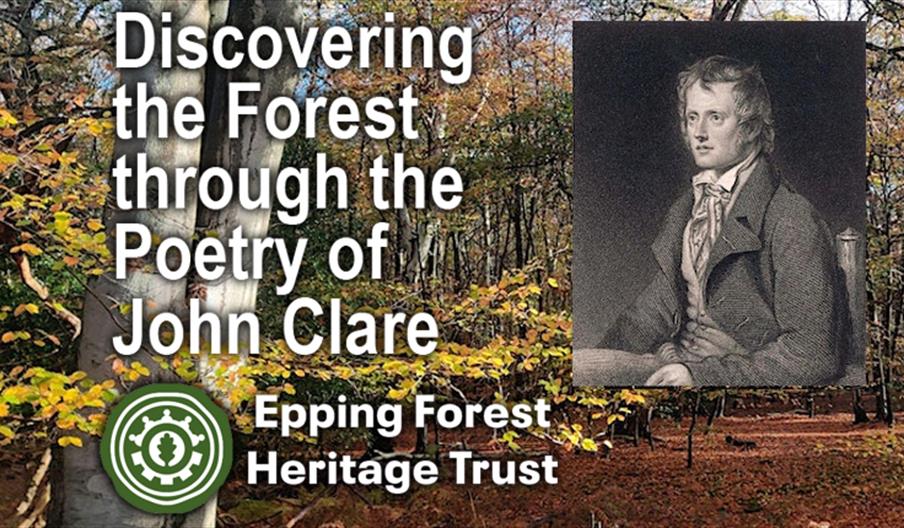 About
Epping Forest Heritage Trust
Discovering the Forest through the Poetry of John Clare
Sunday 22nd October
Starts 10.30am ends 1.30pm
This guided walk is free but click here to book
Join Sue McKinley on a moderate walk through the Forest following in the footsteps of the 'peasant' poet John Clare, reflecting on the poetry he wrote during his time spent at High Beach asylum (1837-1841).
Please note, this walk isn't really suitable for children.
Meet: Pillow Mounds car park. Manor Road, High Beach IG10 4AE
Grid Ref: TQ 411 982
What3words: method.cases.putty
Nearest Underground Loughton Station on the Central Line. 1.5 miles
Booking is essential
"We are a charity and a membership organisation with a big mission to inspire people about Epping Forest, and to conserve and protect its irreplaceable biodiversity, culture and heritage now and for generations to come. We operate across the whole of Epping Forest, covering 6,000 acres stretching from Manor Park in East London to Epping in Essex.
Epping Forest is for everyone to love. Our work is to stand up for this wonderful ancient Forest and inspire everyone to do the same. We have regular guided walk programmes to help you get to know Epping Forest, and we operate the Epping Forest Visitor Centre at High Beach on behalf of City of London Corporation (the Conservators). We also help to increase the biodiversity of the Forest through hands-on conservation work, campaigns to raise awareness of the Forest and advocate at planning enquiries to ensure it does not suffer direct damage from more development, traffic or pollution".
Map & Directions